Omni-Channel Engagement
4 Ways to Grow In-Stadium Engagement
If there's a category of marketing activations that we at Komo know a lot about, it's in-stadium!
---
As technology continues to diversify how we as marketers engage with our audiences, there are more and more opportunities for us to connect with our consumers in meaningful ways.
If there's a category of marketing activations that we at Komo know a lot about, it's in-stadium. Over the last 18 months, our client base within the sports industry has grown significantly. We've had the opportunity to work with some of the most well-known Australian sports enterprises, like Football Australia, the A-leagues, the Commonwealth Games Australia, the Australian Olympic Committee, Fox Sports, Williams Racing, and many more.
The Komo Platform has transformed how these brands run in-stadium activations, growing engagement levels from their fanbases.
Sport has forward standing when it comes to engagement. Put perfectly by the A-Leagues CCO, Ant Hearne at our Mumbrella360 panel last year, "Sport has a running start, it's built from passion. We call them fans because they're generally pretty fanatical about their sport and that's a really good start to getting someone's attention."
This month, we wanted to highlight what we've learned about engaging in-stadium and bringing a new level of excitement to game day. Read on!
It's Who you Know
In-stadium activations are often missing one key element: using what (and who) is there to support them. When it comes to increasing commercial and sponsor ROI, working with your sponsors and vendors in-house is a great place to start.
Think about how you can leverage food and beverage vendors on game day to change how fans engage with the game. We've had clients print QR codes on beverage vendor cups that lead consumers to a Komo Engagement Hub that allows them to make game predictions or play a game of live trivia at halftime.
Consider how you can utilise your sponsors to promote engagement too, like the Roosters worked with major sponsor, Budget to build their first-party data assets!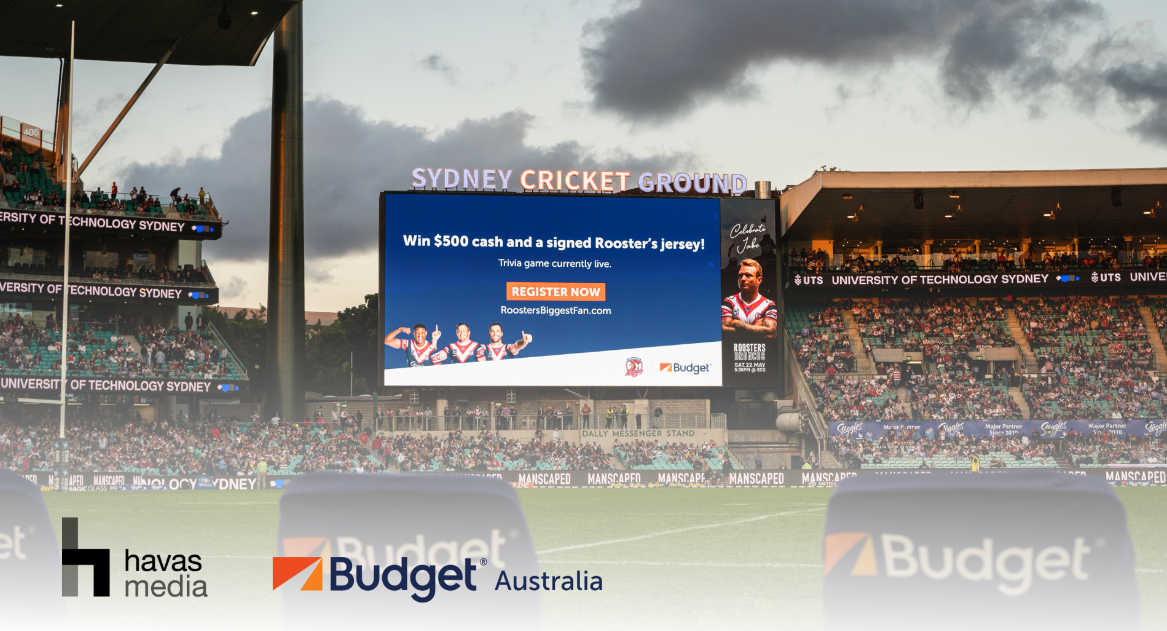 The Big Screen
Using the big screen to your advantage is an excellent way to deliver digitally-integrated gameday experiences. Gone are the days of LED screens in the stadium being wasted on only showing the score… It's time to think BIGGER (get it?).
Engaging fans at the scale of a full stadium can be difficult and collecting their zero and first-party data can be even harder. That's where the big screen comes in. The use of QR codes shines in a stadia setting, allowing fans to quickly and easily access content that captures their attention. We've seen our clients own this moment by displaying a QR code on the big screen pre-game to have fans predict the score of the upcoming game for the chance to be rewarded with a prize.
In order to play, fans must supply their first-party data (assets that you will then own), which can be used to remarket, reward loyalty and increase engagement post-game. While you've got fans hooked, think about how you can get them to willingly impart even more useful information (what is called zero-party data), such as their favourite beer to drink at a game, their favourite players, what merch they like to purchase, etc. The options here are endless!
User-generated content is another overlooked tactic that can be used in a stadium setting. Gather gameday photos from fans and display them on the big screen to get everyone involved! Our clients do this using Komo's Live Data Feeds.
Bring on the Competition
Gameday is the perfect opportunity to take advantage of fans' competitive energy. Competitions are a proven engagement tactic, encouraging consumers to challenge their knowledge of their favourite player, team or game and contend with fellow fans.
As the gamification market continues to grow, more brands are seeing its value and benefits for marketing ROI - now is the perfect time to make it part of your marketing mix and bring the games to gameday!
Here's a look at how Komo Client, Football Australia used gamification to encourage competition between fans for the 2022 Qatar World Cup.
Reward your Fans
While we're on the topic of competitions, consider how you can reward fans for their engagement and keep them coming back for more. Nothing increases engagement like an incomparable prize - think season tickets, a meet and greet with a popular player, signed merch, etc.
The Komo Platform makes prizing easy, with digital coupons that connect easily to a POS system with trackable redemptions. You can even add Pays Enabled Digital Mastercards® to any one of our 50+ games, competitions and integrations, thanks to our prizing partner Vault Payment Solutions! You can learn more about this integration in the video below.
---
Want to learn more?
If you're ready to explore the possibilities the Komo Platform can afford your brand, here are some resources you might find useful!
Case Study: Football Australia