Product
You asked, we delivered: Introducing Spin to Win
If we had to name some of our most requested game concepts, this would be one of them. Our highly-anticipated Spin to Win game is here!
---
If we had to name some of our most requested game concepts, this would be one of them. Our highly-anticipated Spin to Win game concept is finally here, turning an age-old favourite into a completely customisable instant win game - the ultimate way to engage & reward your audience!
---

The Concept

Our new Spin to Win mechanic is based on the traditional game concept of the spin wheel, in which players spin a physical game wheel for their chance to land on a wedge that awards them with a prize or reward. We've taken this concept and spun our magic (pun intended), creating a virtual version for brands to use as a part of our broader customer engagement platform.

As with any other Komo Card, end users will access the game via any of a brand's promotional channels (e.g. a live embed on a website or app, a QR code at a live event, via social media, etc.). From here, they enter the Spin to Win and are invited to spin the game wheel with the aim of landing on their desired wedge to win a prize or reward.

What's in it for Brands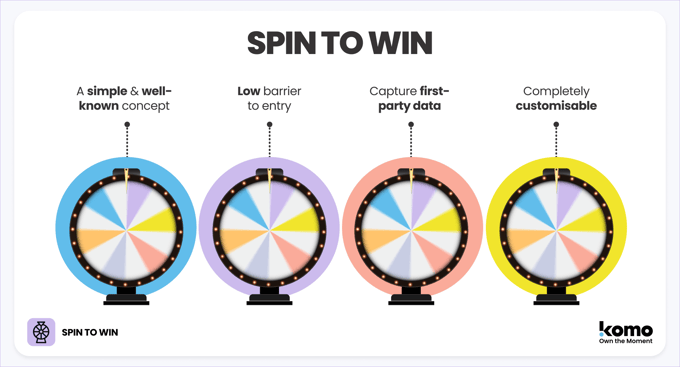 There's a reason this concept has been one of our most highly-requested product updates. This Card is not just any marketing tool - it utilises one of the simplest and most well-known game concepts to really resonate with its users. Not only is the spin wheel familiar to most consumers but it can also be quickly understood, making it an easy way to engage.
But that's not all - the Spin to Win card has the lowest barrier to entry of any of the 55+ games on the Komo platform. That means your customers don't need to jump through hoops or be experts in gaming to participate. They simply fill up a data capture form, click a button, and spin the wheel for their chance to win big. This creates an irresistible nature to the game, making it a powerful tool for generating excitement and driving brand engagement.
To enhance this low barrier to entry, you can even add a second data capture form with each prize wedge to collect even more rich data, creating a progressive form experience that makes it more seamless for consumers to provide their information non-intrusively. This form can be used to collect a winner's address to send them a prize or to ask them about their experience with your brand - Gather that extra piece of data that closes the data capture loop!
Picture this - you're in a store or online store and about to make a purchase. Suddenly, you're offered the chance to spin a wheel and win a discount on your purchase. That's the power of the Spin to Win card - it's the perfect mechanic for winning customers over at the point of purchase. And as a brand, you can capture valuable data from your customers while offering them a unique and fun way to engage with your brand - all in a matter of seconds.
As with any Card on the Komo Platform, the Spin to Win is completely customisable and brandable. Integrate your brand colours, logos, imagery, fonts and more to make it truly your own and drive brand recognition and recall.
---
Use Case Examples
You're almost ready to spin your way to success - let's have a quick look at some use case examples for the Spin to Win mechanic.
---
Want to see this game concept in action? Play through our Spin to Win from the Komo Hub below.
---
If you're interested in learning more about Spin to Win, request a product demo below and we'll personally introduce you to this new mechanic and how it works as a part of our comprehensive customer engagement platform!