Product
Introducing Interactive Q&A
The Interactive Q&A Card acts as a tool to run and moderate a forum-style live event, whether in-person or virtually.
---
Running Q&A sessions and panels at live events is truly an art form. The old-school method of passing around a mic to the audience brings its fair share of challenges. It's tough to prep and curate questions in advance, plus there's no way to collect valuable customer data and insights. Not to mention the struggle of dodging inappropriate questions and accurately gauging the crowd's mood on the spot. It's all about trying to juggle a live audience while keeping things smooth.
So we've done what we always do - We've engineered a solution.
Introducing our latest game concept, Interactive Q&A, powering seamless and engaging events. Our Q&A tool streamlines the process of managing questions and moderating discussions, allowing event organisers to focus on delivering an unforgettable experience to their audience!
---
The Concept
The Interactive Q&A Card acts as a tool to run and moderate a forum-style live event, whether in-person or virtually. Users access the Q&A card via any one of your promotional channels (see our page on omnichannel distribution here). From here, audience members are asked to fill in a data capture form, before submitting questions to your panellists.
Once submitted, questions are approved or rejected by a moderator, and archived once answered. Audience members can scroll through approved questions and vote for the questions they'd most like to hear answered. The Q&A card will automatically sort the questions by the number of votes.
What's in it for Brands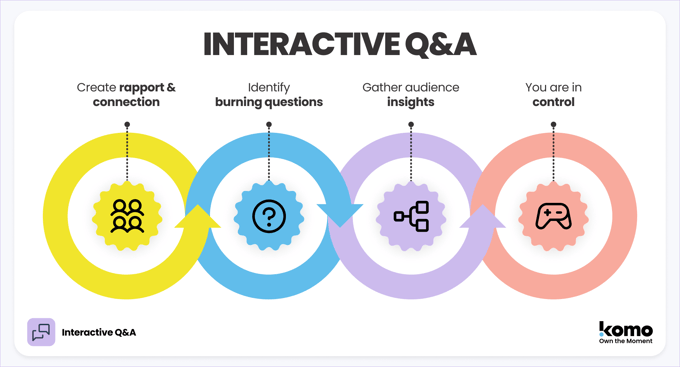 Our new Interactive Q&A card combines some of our best benefits for brands: Customisation, engagement, data capture and live sharing!
An important aspect of any live Q&A session is creating rapport and a connection between your panellists and the audience. The introduction of the new interactive Q&A card not only fosters a dynamic exchange of ideas but also enables audience members to forge a genuine connection with the panellists, creating an immersive experience that transcends the traditional boundaries of passive participation.
To continue this immersive experience, audience members have what we like to call 'voting ammo', which is a number of opportunities to vote for their most burning questions. This feature optimises the entire Q&A experience, allowing event organisers to quantify the most popular questions and choose those to direct to their panellists. Voting also injects a healthy dose of competition into the mix!
The Q&A sessions of the past consist mostly of an event organiser walking around with a microphone, meaning no data or insights are captured from the audience. This card can be used to gather audience insights and sentiment, which is then stored in the Komo Platform, informing post-event remarketing, future events or personalisation tactics. The pre-card data capture form, as with any across our game concepts, can be completely customised to reflect the first-party data you wish to collect from your audience.
One of our most important and well-loved brand benefits is customisability, and Interactive Q&A is no different. This Card can be used in a number of live event settings and brands have total control.
We know that some brands steer clear of Q&A sessions because walking around with a microphone can make it tricky to weed out inappropriate or politically-charged questions. Interactive Q&A completely eliminates this - With full moderation capabilities, questions only appear for all audience members when a moderator has approved them.
Beyond moderation, customise your Q&A to reflect your brand in a matter of minutes (and with no coding required, of course!). You can also customise our Live Data Feeds, which can be used to feed questions to the big screen in real time, allowing both viewers and panellists to view and answer them easily.
To give brands even more control of their Q&As, we've engineered the Interactive Q&A card to allow the gathering of questions and collection of data before your event has even begun. Send your ticket-holders an email with your Q&A card embedded, allowing them to get their questions in early. This will allow event organisers to moderate questions prior to the forum, creating an even more seamless experience.
This awesome Q&A solution goes beyond just making events better—it opens up a whole world of commercial possibilities. Picture this: while engaging in the Q&A, we can effortlessly steer the audience towards more exciting commercial touchpoints. Whether it's enticing them with cool merchandise, offering tickets to upcoming events, or introducing them to other fantastic opportunities, this interactive platform becomes a gateway to unlock a range of commercial benefits. By seamlessly integrating these elements into the Q&A experience, we create a win-win situation—audience engagement skyrockets and commercial success follows suit.
---
Want to see this game concept in action? Play through our Interactive Q&A from the Komo Hub below.
---
If you're interested in learning more about Interactive Q&A, request a product demo below and we'll personally introduce you to this new mechanic and how it works as a part of our comprehensive customer engagement platform!