Data-Based Marketing
Why Brands Need a First-Party Data Strategy in 2023
It is time to look at first-party data and how we can ethically navigate the data marketing world.
---

Now that we have had time to process the death of the cookie, it is time to look at first-party data and how we can ethically navigate the data marketing world.
WHAT IS FIRST-PARTY (1P) DATA?
First-party data is information captured with explicit consent from customers who interact with your business online or offline. This data is collected when consumers; visit your website, sign up for a loyalty program or subscription, mailing list, or purchase from one of your stores.
In order to understand first-party data, it is pertinent to discuss the key benefits: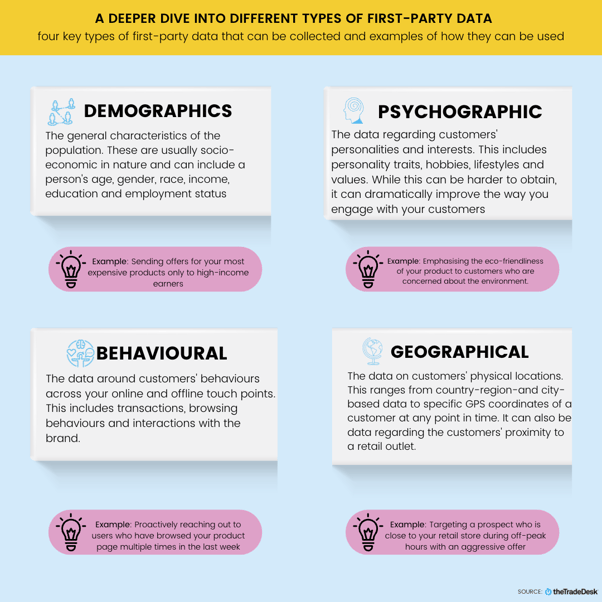 Accessibility: you can standardise the data and make it accessible across the business.
Transparency: it allows you to trace how data is collected and whether it complies with regulations.
Engaging: you get higher engagement from your consumers who have given you their explicit content.
Cost-effectiveness: avoids ad wastage by ensuring the same audience is targeted only sometimes across different channels.
Precision: the flexibility to decide the breadth and depth of data to collect based on your business needs.
Ownership: future-proof your marketing against constantly changing regulations and industry standards.
Recent: ensures data is up-to-date and relevant to avoid wastage in marketing spend.
Supercharge other strategies: improves the effectiveness and efficiency of different post-cookie strategies.
"Customers that trust a brand are twice as likely to share email data." - BCG research.
A critical step to ensure continuous trust between you and your customers is informing them how you plan to use their data.
According to a 2020 study by BCG, companies that link all of their first-party data sources can generate double the incremental revenue from a single ad placement, communication, or outreach. They can also see a 1.5x improvement in cost efficiency over companies with limited data integration and still see plenty of opportunity for first-party data to enable marketing departments across various business types better.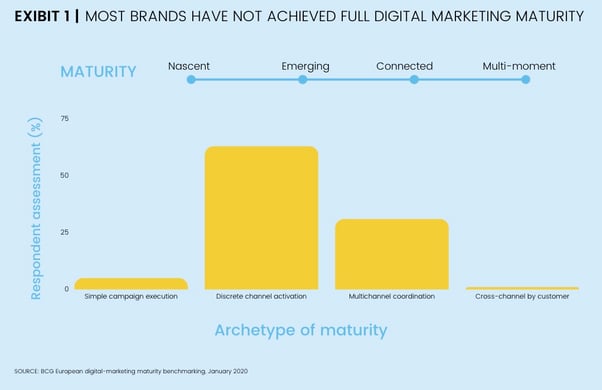 When you analyse your first-party data for insights, you can better connect with your audience by delivering more meaningful experiences in a privacy-safe way. A unified first-party strategy allows you to target and re-target your customers on media buying platforms throughout their journey.
Now that you've collected and stored your customer's data, let's look at how to use it ethically and effectively.
DEFINE YOUR BUSINESS OBJECTIVES
With a first-party data strategy, you'll need to know what you want to do for your consumers. Are you trying to understand customers' behaviours better? Or are you looking to prompt real-time personalisation? Or add an omnichannel experience?
Example: Think Disney, Starbucks, Amazon, and Virgin Atlantic. Each offers customers the ability to interact via web, mobile, voice, digital, and email, all in a connected way. So, if a customer switches from one channel to another, the experience continues seamlessly.
DEFINE YOUR TARGET AUDIENCE
You'll need the correct first-party data from channels like web, mobile, CRM, apps, and your product to define your target audiences. For example, your visitors can be segmented by online behaviour, affinity, and standard demographics to develop a personalised marketing strategy.
Example: Who do you want your brand to reach? i.e., Female 18-35 years old, interested in beauty and fashion.
HOW WILL YOU COLLECT DATA?
After you've sourced the correct first-party data, you'll need to understand which specific data points you need to support your 1P data strategy case.
Example: Data collected from Customer feedback, Surveys, CRM data, Subscription-based emails, or products.
WHERE DO YOU WANT TO USE THIS DATA?
Segmentation evolves with your access to data. How do you define a VIP or fan? Creating an omnichannel experience tailored to your audience starts with deciding which insights to use in which channels.
Example: When a customer subscribes to your mailing list, do you have a value exchange, i.e., gifting the customer a voucher or a free e-book
HOW WILL YOU MEASURE SUCCESS?
What data points will you use to measure success? This is an ongoing process. Your insights will help you get the most out of customers' experience and analysis tools. To effectively measure your success, you must use reporting tools and platforms, allocate resources, check in from time to time, and request feedback
To conclude, having a first-party data strategy is necessary for any company or brand. With these easy steps, you will be building a stronger relationship with your customers in no time!
If you want to learn more about how Komo can help you connect, capture and reward your audience through immersive, gamified experiences, reach out to us below, and we'll personally introduce you to our incredible platform that can help you achieve just that.